Beginner's Guide to Thermal Printing Technology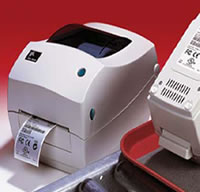 The thermal printer is a non-impact design, which works by heating a row of microscopic 'dots' on a print head. In turn, these dots effectively burn an image directly onto direct thermal media or by transferring ink through a ribbon.
The dot temperature can be easily adjusted to suit the ribbon/media combination, and finely tuned to optimise print clarity. This results in clear crisp images which make them ideal for printing bar codes.
Labels and tags are usually supplied in roll form and can either be stored internally or fed by external means. Most printers are capable of detecting the gaps between labels thus enabling accurate print positioning every time. Label designs can be generated using external PC based software, or programmed directly by means of a keypad.
Thermal print and media technology have evolved to such a degree, that it is possible to produce printed labels that will withstand demanding applications and processes, where ordinary paper labels fail.
View our range of Zebra Thermal Printers.
Or call our sales team on 02392 511234 for advice on the right thermal printer for your needs.