Zebra R2844-Z - RFID Printer/Encoder
Low-Volume Desktop Printing, 13.56 MHz Smart Labels
The smart choice—print and encode data using one advanced solution.
Fulfilling the need for a compact RFID printing solution that can encode smart labels at the point of use, the R2844-Z printer/encoder is one of the most versatile in the industry!
Designed for printing and encoding smart media such as wristbands and smart labels, the R2844-Z meets the needs of applications requiring greater processing speed and more connectivity choices—such as standard serial, parallel, and USB ports, and optional Ethernet. It also offers the widest range of supported 13.56 MHz RFID transponders, including:
Philips' I-Code®
Philips' EPC
TI's Tag-it®
Inside Technologies' PicoTag®
ISO 15693 from Philips, Infineon and Texas Instruments
Transponder sizes can range from 12 x 28 mm to 90 x 130 mm.

The R2844-Z RFID smart label printer/encoder provides expanded
connectivity, superior performance, and the widest range of support
for 13.56 MHz RFID transponders, making it ideal for applications in
industries that include:
Healthcare/Pharmaceutical
Amusement parks/Entertainment venues
Libraries
Express parcel delivery
Supply chain management
Asset tracking

The compact R2844-Z is ideal for low-volume printing/encoding in
space-constrained areas.
More Information
For advice on the right label printer for your needs or further information on this or other Zebra Label Printers:
call our sales team on 02392 511234 or request a quote.

Download the product datasheet for this printer.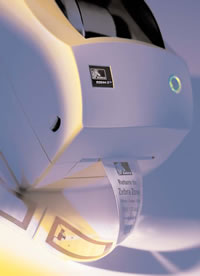 Zebra RFID Label Printer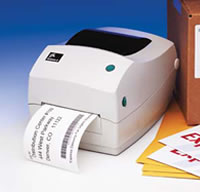 Zebra R2844-Z
Related Products
You may also be interested in