Security Labels

Tamper-evident labels (also known as destructible labels) are an important means of stopping fraudulent activity.
Barcoded and Serial Numbered Security Labels
A unique serial number or barcode can be printed onto a special destructible labelstock which will fragment into tiny pieces if removal is attempted. By doing this, it prevents the label being transferred onto another product.
Warranty Seals
With careful label positioning over a seal or screw-hole, it is possible to use the label as a means of testing the invalidation of a warranty. It provides evidence of opening by unauthorised persons.
Voiding Label
An alternative security label is the voiding label which, if removed, will result in the word 'VOID' appearing on both the label and product, thereby rendering the label unusable and providing indication of product tampering. There are also different wording variations and patterns available.
Available as Blank Security Labels for On-Demand Printing
As with most of our labels, security labels, warranty seals and voiding labels are also available in blank format (supplied in reels) ready for use on thermal transfer printers, which enables you to control on-demand printing of customised information. We also supply label printers suitable for this use.
Examples of Uses and Applications
Product Seals
Security Seals
Asset Protection
Document Seals
CD and DVD Sealing
Safety Equipment Labelling
Genuine Product Seals
PC Hardware and Software Components
Product Options
Almost limitless range of sizes available
Can be preprinted with text, logos, barcodes and serial numbers
Fully customisable for a unique, branded look
Available blank or preprinted
Usually supplied in reels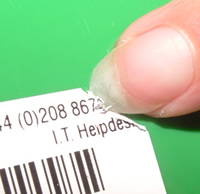 Warranty Seal
Related Products
You may also be interested in