Bar Code Labels
Since its emergence in the late 1970's, the bar code has become the norm when it comes to data manipulation and throughput.
The function of the bar code is to increase data throughput and thus reduce the amount of time consumed by traditional means. By scanning bar codes into a computer, it is possible to trace details on the current status of the item.
For example, a manufactured product with a unique serial number may allow the scanner to access information such as:
Date of manufacture
Modifications
Country of origin
And much more.....
We have access to all of the major bar code symbologies including:
EAN-8
EAN-13
Code 128
Code 93
MSI Plessey
Code 3 of 9 (code 39)
Interleaved 2 of 5 (ITF)
EAN-128
Codabar
2 Dimensional codes
We understand the technical constraints and limitations of various bar code types and are always willing to provide free samples to determine their suitability before you commit to an order.
Avoiding Serial Number Duplication
We can hold records of any serial numbers that you may order, which will help to prevent duplications and allow you to order the next batch without knowing the next start number. This is all part of our standard service for which there is no additional charge.
Examples of Uses and Applications
Point-of-sale: Bar codes are used to maintain stock levels, and pricing information. This is largely thanks to the EAN bar code type which is found on items sold in supermarkets. A central database has information relating to the item including supplier, shipping information etc.
Shipping: Information concerning the contents of boxes and pallets can be stored in EAN-128 bar code format. Warehouses use this information to identify goods, their sizes and quantity denominations.
Manufacturing: By using bar codes, a product can be tracked as it progresses through a production line. This enables manufacturers to establish the current state of the product, including batch control, and quarantine issues.
Product Options
Available as bar code labels or barcode tags
Static or sequentially numbered
Can be printed on virtually any label or tag materials
Additional text and logos can be included
Lamination
We produce most label sizes, but where space is limited on your products, technical advice can be provided to ensure the bar codes meet all of the criteria to allow successful scanning.
Can be supplied pre-printed in roll or sheet form.
Alternatively you can print bar codes yourself on blank labels using laser, inkjet, or thermal transfer printers.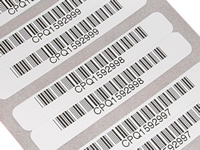 Bar code label sets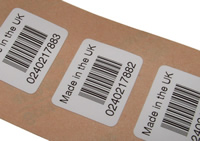 Serialised bar codes
Related Products
You may also be interested in