Zebra Z Series

ZM400™ and ZM600™ Industrial Label Printers
The ZM400 and ZM600 printers bring added flexibility to the popular Z Series platform, which has always stood out from the competition in terms of both performance and price.
With 10-inches-per-second print speed, industry-leading throughput, rugged reliability, and a wide selection of options, these full-sized metal printers enhance productivity in tough environments and demanding applications.
Better Connected for a Connected World
The new Z Series printers better connect with most warehouse/
manufacturing and business applications. The ZM400 and ZM600 are better connected to your network—through USB 2.0, 802.11b/g secure wireless, or our new ZebraNet® 10/100 Print Server that allows simultaneous parallel and Ethernet connectivity.
Applications
On top of the hard-working durability and easy use of
these die-cast metal frame printers, the speed-optimized
ZM400 and ZM600 are perfect for:
Work in process
Order fulfillment
Compliance labeling
Distribution
Warehouse management
Shipping and Receiving
Hospitality and Transportation ticketing
Pharmacy and Healthcare
Delivering quick first label out, shorter print times, and application flexibility, Z Series printers are unbeatable for enhancing productivity and the bottom line.
More Information
For advice on the right label printer for your needs or further information on these or other Zebra Label Printers:
call our sales team on 02392 511234 or request a quote.

Download the product datasheet for this range of printers.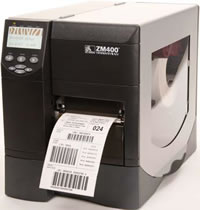 Zebra ZM400
Related Products
You may also be interested in