PCB Labels

Identification of printed circuit boards is made simple by our range of high-temperature labels.
PCB Labels that can withstand a range of environments
When selecting a label type, it is important to determine exactly what they must withstand. These include:
Cleaning and solder wave processes
Temperature ranges
Chemicals
With board space usually being critical, we let you decide exactly how big - or small the labels should be without imposing any die charges.
Try before you buy
Anubis offer several variations which are designed to cope with different PCB environments. We are happy to offer samples and specification sheets of different types, effectively allowing you to 'try before you buy'. With this in mind, it enables our customers to purchase labels with confidence.
Barcoding & Serial Numbers
Single or multiple bar codes can be supplied from a selection of all the main industry types. Serial numbering is easily incorporated, and you may take advantage of our in-house sequential number logs, which eliminate the possibility of overlapping number ranges when unique identification is important.
Blank PCB Labels
Blank labels can be sold with 'tailor-made' thermal transfer ribbons which will enable successful printing of robust labels capable of tolerating the harshest PCB processes. We supply a range of Zebra Thermal Printers that can be used for this purpose.
Product Options
Usually supplied in roll form
Option of blank or pre-printed labels
For high volume users, we can produce accurate placement labels, suitable for use with automatic applicators.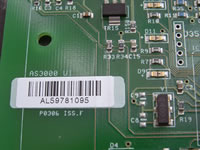 PCB Label In-Situ
Related Products
You may also be interested in