QL Series Zebra Mobile Label Printers

Mobile printing for businesses on the go.
Rugged mobile printers to meet your changing
business needs. QL series mobile printers enabled with secure wireless
options are easily integrated into your infrastructure.
The Wireless QuickLink Connection
Choose the QuickLink connectivity module that suits your needs:
802.11b—the latest and greatest WLAN connectivity
Bluetooth—low-power consumption short-range connectivity
Cable-ready—connect to a wider variety of terminals than any other mobile printer
Support for advanced wireless security standards such as VPN
and WPA
Rugged, Lightweight Printer
Rubber-infused plastic over-mold design for tough conditions
Damage-resistant to multiple drops of up to 5 feet
Weight of 2 pounds or less for effortless mobility
Load and Go!
Center-locking media loading
Engage the easy-to-use peel and present function with the flip of a bar
Applications of the QL Series
Distribution
Forklift-Mounted Printing
With the QL 420's mobile mount option,
forklift operators can print product
identification, bin, and shipping labels at the
point of application—without needing to run
back to the shipping office to pick up labels.

Healthcare
Specimen Labels
Healthcare facilities can print specimen labels
at the point of collection, and also print a bar
coded label for the patient's chart, reducing
the risk for dangerous misinformation.
Retail Pharmacy Labels
Retail pharmacies can scan the prescribed
medicine and print bar coded labels with
patient information when using the QL
anywhere in the pharmacy, minimizing the
risk for wrongly filled prescriptions.
Retail
Price Marking
By printing and applying markdown labels at
the location of the product via wireless LAN,
retailers can respond to sensitive market
changes more frequently.
Shelf Labeling
Use a QL to print one or multiple shelf labels
at the point of application as required—avoiding
waste and improving efficiency.
Shipping and Receiving
Receiving Verification/Inventory Updates
Apply QL-printed bar code labels as deliveries
are received to record product arrival, and
scan these labels throughout the process for
tracking purposes.
Manufacturing
Pallet Labeling
When breaking into a pallet to remove a
partial order, employees can label the partial,
and re-label the pallet in real-time to maintain
inventory accuracy.
QL220 Plus
Take 2-inch label, ticket, and receipt printing where stationary and larger mobile printers dare not go—whether it's down store aisles, on hospital rounds, or onto retail pharmacy counters. Strap or clip on the sleek, 1.04-pound QL 220 network-addressable label/receipt mobile printer and move with ease!
For complex mobile printing applications requiring advanced wireless connectivity support, complex graphics or fonts, or ZPL® and EPL™ commands, Zebra has designed a product line enhancement to the QL series, the QL Plus series. By ordering the "Plus" version of a QL 220 you'll get added features and benefits designed around users with mobile printing applications.
More Information
For advice on the right label printer for your needs or further information on this or other Zebra Label Printers:
call our sales team on 02392 511234 or request a quote.

Download the product datasheet for this printer.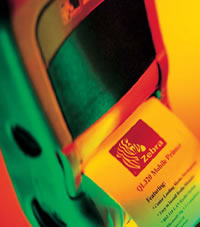 Zebra Mobile Label Printer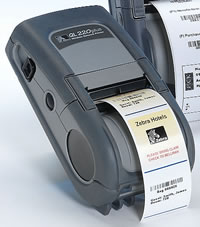 QL220 Plus Mobile Label Printer
Related Products
You may also be interested in